Why Once Through Boiler
Seasonal Efficiency
Once Through Boiler maximize efficiency for the unique seasonal and load requirements of factory, while providing the necessary 100% back-up requirement. For example, fire tube boiler 6 ton/h two units, while Once Through Boiler will spec 3 ton/h four units. The fire tube boiler will run both units (12 ton/h) while Once Through Boiler will run three units (9 ton/h) and have the fourth unit available as required. Since Once Through Boiler can operate from a cold back-up, (water to steam in 5 minutes, while the fire tube boiler can take hours), the fourth unit can be idle until needed. Plus, Multiple Boiler Control System MBCS (see next page) maximizes Once Through Boiler's modularity advantages.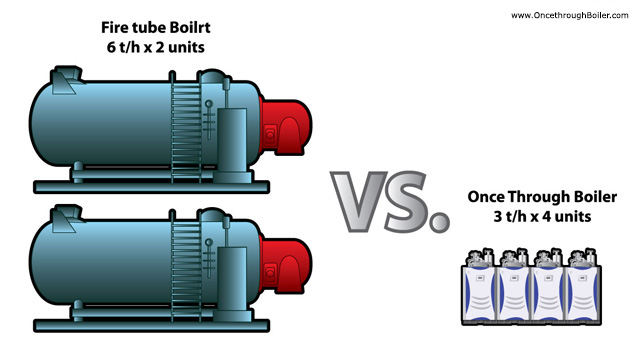 Space Savings
Factory land and construction cost are very expensive. That's where Once Through Boiler's compact steam boilers offer a real advantage. At a nationwide average of well over 10,000 Thai Baht per square meter, construction costs for boiler facilities that utilize large boilers is like throwing money away. In today's economy, reducing capital expenditures is essential and only Once Through Boiler has the efficient solution for your factory.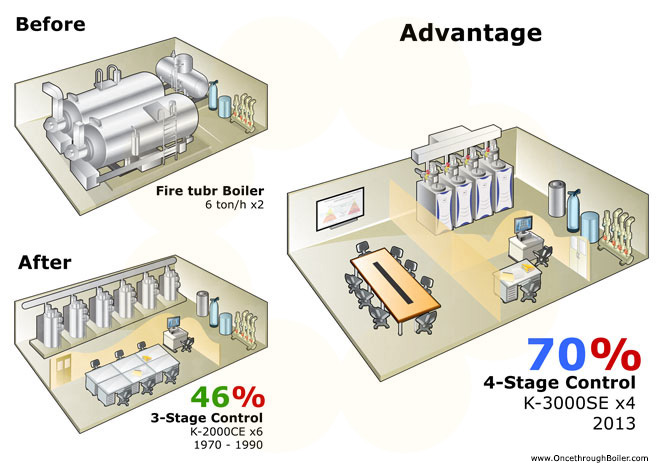 Save on new construction cost or re-capture precious space with Once Through Boiler's compact design.
Functions and features
Quick supply of steam in 5 minutes.

Space-saving design by close boiler surface installation.

Safe of explosion because of small water content.

Small heat loss achieves high in - service efficiency.

Easy installation and piping works.

Save time for inspection (and other maintenance checks).
Can use with several types of fuel: diesel oil, fuel oil, L.P.G., and NG.